RAPAPORT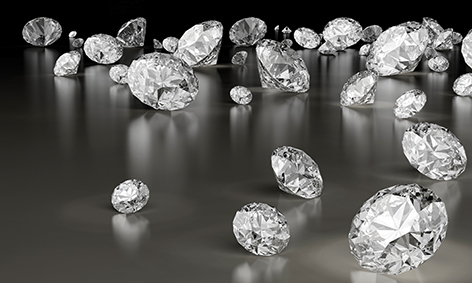 The group Rapaport Group announced that RAPI index fell about 2% to 0.3 carat diamond, one carat and 3 carats, and fell by 0.5% to 0.5 carat diamond.
For the period 1 January to 1 August, compared with last year, recorded a decline of 1% for diamonds 1 carat, and 10% for diamonds three carats. However, upwards by 4% moved diamonds 0.5 carats, while remained unchanged prices for stones 0.3 carats.
"Attention" is the word that prevails in all submarkets -katergasmena diamonds, rough and retail trade as demand for diamonds remains stable in the United States but will yield to other middle of the world, thereby forcing manufacturers and suppliers of precious stones to They are more cautious in their purchases and mining companies to reduce their production.
In the monthly analysis, Rapaport noted that usually the diamond trade subsides during the summer months, but especially this year, this phenomenon has taken alarming proportions.
The American diamond market remains the most robust world demand remains steady for the stones between sizes 1 and 2 carats, G-H color and VS-SI in clarity.
Analysis of Rapaport also stresses that high-quality diamond cutting knows high demand in the market, and especially the so-called premium diamond with perfect cut, polish and symmetry, which are known as triple EX.
The diamond processing industry and manufacturing jewelery hopes will improve the image of the industry market after the completion of the Hong Kong exhibition in September, and certainly investing a lot in the upcoming holiday season, whereas there will be a significant increase in demand for diamond jewelery .
Note also, that De Beers is in the first half of 2016 announced the results of rough diamond sales of both wholesalers and through online auction platform available.
Thus, by 1 August this year, De Beers had made sales of approximately EUR 520 million. Dollars of rough diamonds, recording a decrease compared to the first round of sales was $ 564 million.
It is however for the third consecutive De Beers' sales cycle where known retreat of rough diamond sales.
The course of the six sales cycles for 2016 is as follows:
First sales turnover: 545 million. Dollars.
Second sales turnover: 617 million. Dollars.
Third Sales cycle: 666 million. Dollars.
Fourth sales turnover: 636 million. Dollars.
Fifth sales turnover: 564 million. Dollars.
Except sales turnover: 520 million. Dollars.
Commenting on this result, the new managing director of De Beers, Bruce Cleaver, noted: "It is an encouraging result at this time of the year, accompanied by a positive mood of our customers. We appreciate that the end of 2016, our assessment is very positive."