To auction world's largest meteorite carving
Editing: Dimitris Stamoulis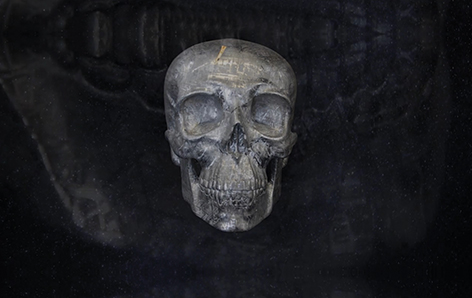 Called "Yorick," the skull is the world's largest known meteorite carving, according to the auction house. Artist Lee Downey created the piece by acid-etching the carving to uncover the meteorite's singular, lattice-like "Widmanstätten" pattern.
Gibeon meteorite, which is iron-based and one of the rarest forms of the debris, originated billions of years ago from an unstable planet that existed briefly between Jupiter and Mars. During its journey through space, the meteorite's alloys crystallized to form an octahedral crystalline structure that cannot be recreated on Earth.
Bonhams said when the meteorite met the Earth's atmosphere some 1,000 years ago, it exploded over the Kalahari Desert in Namibia and was discovered by the Nama people.
Downey's carving weighs 21,070 grams, which amounts to a little more than 46 pounds.
"By sculpting the skull's undulating curves, and because each crystal reacted uniquely to the acid treatment, Downey brought out features never seen before in Gibeon," said Claudia Florian, Bonhams co-consulting director for lapidary works of art, specimen gemstones and minerals. "It's out of this world."
Downey said he chose Gibeon meteorite because it "best embodies the 'mystery'" of the human skull. He took measurements from an actual male skull to ensure realism and accuracy, and named the piece Yorick as a reference to the dead court jester whose skull triggers a monologue by Hamlet in the play of the same name.
Bonhams will put Yorick up on the auction block at its Los Angeles Lapidary Works of Art, Gemstones and Minerals sale scheduled for Nov. 24.