Unique combination of colors from the ... Extinct rubies
In the Burmese rubies there is an almost mystical appeal to them. For many, they are considered to belong among the best precious stones in the world.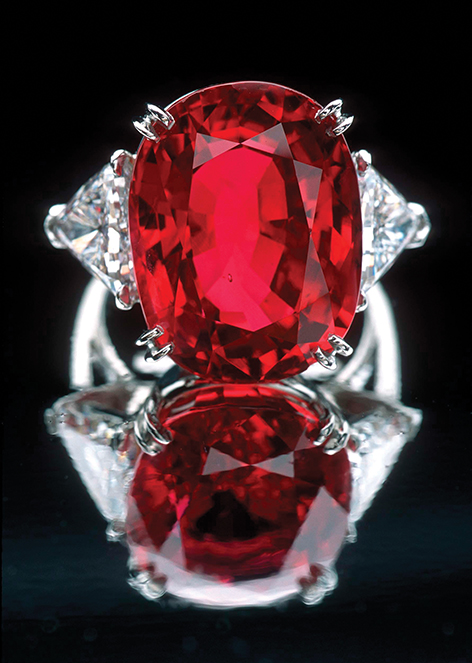 Their particular color is the result of two factors, according to the book "Ruby & Sapphire: The Guide to a Gemmologist".
The first factor is a combination of the slightly blue-red color of the gemstone base along with the "cleaner" red fluorescent emission, working together to give this high intensity to the color.
The second factor is the presence of "silk", that is, the tiny clusters that disperse the light upward, giving color a softness and greater dispersion across the surface of the gemstone.
While other rubies from different sources have the strong red color they do not compare to those from Burma. Perhaps this is the special combination of the factors we mentioned that classify the particular rubies at the top of the list.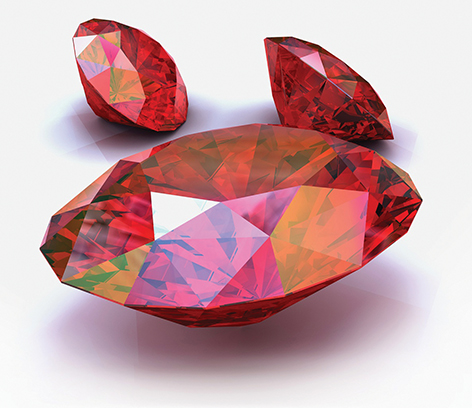 Burmese rubies are much newer than those from East Africa. Of course, this is true of all the rubies created by the conflict between the Indian continent and the Asian continent.
During some tectonic conflicts in history, they have led to major changes in the surface of the Earth, resulting in the formation of minerals and the creation of regions called orogenic zones. Many of the mines with the finest rubies and sapphires fall into these zones, according to the Hughes book.
The Panagorean orogeny occurred about 750-450,000,000 years ago, where beautiful landscapes were created in Kenya, Tanzania, Mozambique, Madagascar, Sri Lanka and southern India.
Meanwhile, the activity of 45 to 5,000,000 years ago has resulted in the Himalayan region, the creation of ruby and sapphires from Afghanistan and Tajikistan via Pakistan, North India, Nepal and Myanmar, and then China and Vietnam
There is no easy way to determine the exact age of rubies, but there is a distinction between the rubble from the Himalayas with those originating in East Africa and Sri Lanka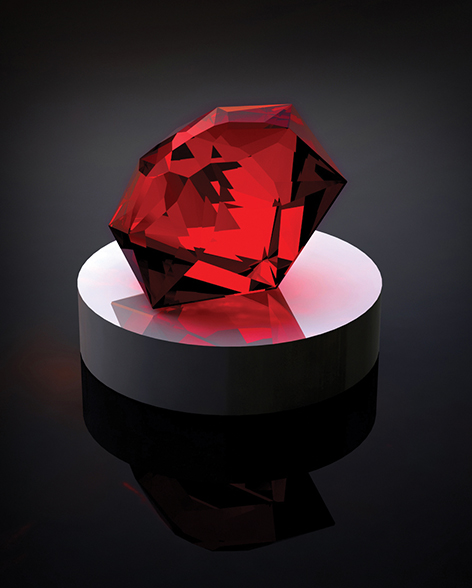 Unfortunately, there is not a large amount of excellent ruminants from Burma, most mining operations being made in Mogok, according to Hughes.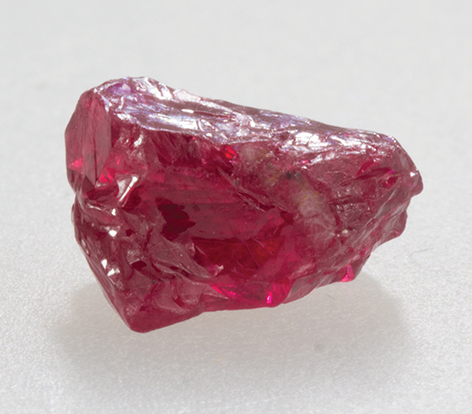 Burmese rubies can only be compared with the rubies from Mozambique because of the difference in iron content in the soil, resulting in a similar shade of red, according to Secrets of the Gem Trade.
This is good for the ruby industry, because they can place on the market precious stones approaching the quality of rubies from Burma. In fact, it is estimated that about 85 per cent of the ruby market today is made up of Mozambique.
And as production from Burma will continue to decline, supposing that Mozambique's supply of Romanians will remain strong, it is likely that the proportion that exists today will diminish.
RAPAPORT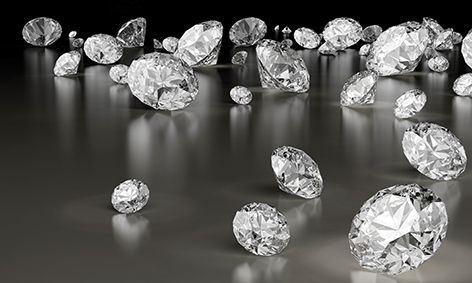 The group Rapaport Group announced that RAPI index fell about 2% to 0.3 carat diamond, one carat and 3 carats, and fell by 0.5% to 0.5 carat diamond.
For the period 1 January to 1 August, compared with last year, recorded a decline of 1% for diamonds 1 carat, and 10% for diamonds three carats. However, upwards by 4% moved diamonds 0.5 carats, while remained unchanged prices for stones 0.3 carats.
"Attention" is the word that prevails in all submarkets -katergasmena diamonds, rough and retail trade as demand for diamonds remains stable in the United States but will yield to other middle of the world, thereby forcing manufacturers and suppliers of precious stones to They are more cautious in their purchases and mining companies to reduce their production.
In the monthly analysis, Rapaport noted that usually the diamond trade subsides during the summer months, but especially this year, this phenomenon has taken alarming proportions.
The American diamond market remains the most robust world demand remains steady for the stones between sizes 1 and 2 carats, G-H color and VS-SI in clarity.
Analysis of Rapaport also stresses that high-quality diamond cutting knows high demand in the market, and especially the so-called premium diamond with perfect cut, polish and symmetry, which are known as triple EX.
The diamond processing industry and manufacturing jewelery hopes will improve the image of the industry market after the completion of the Hong Kong exhibition in September, and certainly investing a lot in the upcoming holiday season, whereas there will be a significant increase in demand for diamond jewelery .
Note also, that De Beers is in the first half of 2016 announced the results of rough diamond sales of both wholesalers and through online auction platform available.
Thus, by 1 August this year, De Beers had made sales of approximately EUR 520 million. Dollars of rough diamonds, recording a decrease compared to the first round of sales was $ 564 million.
It is however for the third consecutive De Beers' sales cycle where known retreat of rough diamond sales.
The course of the six sales cycles for 2016 is as follows:
First sales turnover: 545 million. Dollars.
Second sales turnover: 617 million. Dollars.
Third Sales cycle: 666 million. Dollars.
Fourth sales turnover: 636 million. Dollars.
Fifth sales turnover: 564 million. Dollars.
Except sales turnover: 520 million. Dollars.
Commenting on this result, the new managing director of De Beers, Bruce Cleaver, noted: "It is an encouraging result at this time of the year, accompanied by a positive mood of our customers. We appreciate that the end of 2016, our assessment is very positive."
Why emeralds are still popular
Editing: Dimitris Stamoulis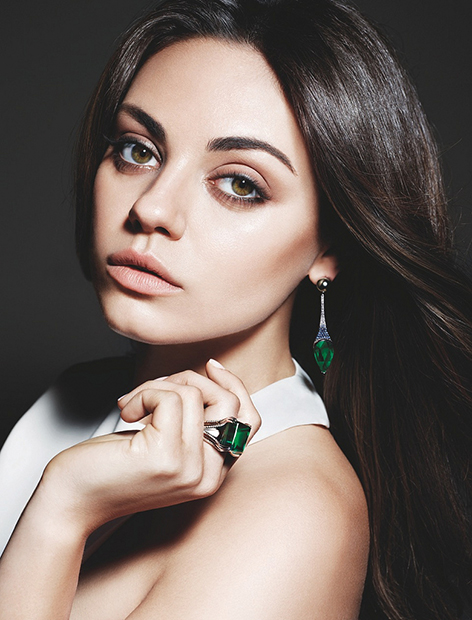 The emerald is still at the top of global preferences.
Anyone not surprising that the popularity of emeralds lasted unchanged over the centuries. The most famous member of the family of beryllium is known to people of wealth and power from the first moment I was discovered. The beautiful, bright and radiant green color has become synonymous with unique beauty describing landscapes and reflects the optimism of spring.
The emerald color is so popular, in fact, even when surrounding inclusions, maintains the high quality and value, according to the International Colored Stone Association. In fact, an emerald with inclusions deep green color is most valuable in connection with a completely clean from inclusion, emerald.
These inclusions often described as the format in which similar, eg moss or plant leaves, and sometimes called jardin, which in French means garden, a term that refers to the spring season.
As the popularity of the emerald is still high and in today's market, the market is trying to find ways to address some of the major problems regarding green gems.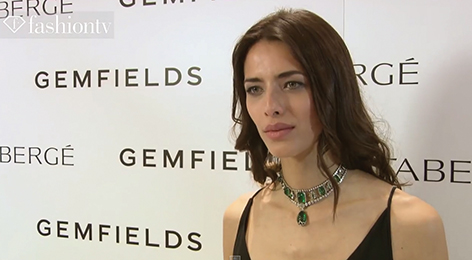 The Gemfields is the dominant player in the global market emeralds.
Do it like ... De Beers
The first International Symposium emeralds, designed to bring in communication all market sectors, took part in the capital of Colombia, Bogota, from 13 to 15 October 2015 were hosted many local and international experts in the field of emeralds from government agencies but also from the private sector, who analyzed the current problems facing the emerald market and new trends in.
The symposium analyzed issues such as the management of raw materials, mining and various types of processing emeralds, their certification, nomenclature, technology, education and information to consumers and branding. The Fedesmereldas, as it was called the body that organized the symposium in Bogota, appreciate that this will yield a "harmony in the global industry of emeralds," in an effort to harness relevant experience that has drawn the gemstone industry from similar actions and initiatives diamond industry.
Since the emerald is still at the top of global preferences regarding color gemstones, their demand remains very strong. Analyst Gemmological Institute of America (GIA), Russell Shor, noted that during his recent trip Hong Kong, noticed that the demand in the region remains very strong. As noted, 7-8 years ago, emeralds market faced some problems, but nowadays returned to very positive results. "For many years, the color green was out of fashion, but now has returned colder" added R. Shor. In this positive development role played by Pantone Institute, which he called "Color of the Year 2013" emerald, restoring in vogue and very soon in the shop windows, the green emerald.
The Niveet Nagpal, spokesman Omi Gems, said that his company continues to see increased sales and high demand for green stone. "If there was a better offer high quality emeralds in the market, without increases in the price, we could possibly increase our activity with emeralds," said the website of the National Jeweler.
Another issue raised in his speech R. Shor are promotions Gemfields company, which has primacy in the extraction and marketing of emeralds, the lines of De Beers' activities and marketing activities in the diamond area. Another noteworthy point is that the rise in demand for emeralds, beneficial functions and increasing demand for other green stones such as for example, peridot and tourmaline.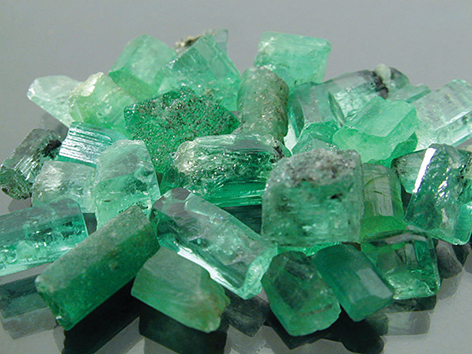 The emerald color is so popular, in fact, even when surrounding inclusions, maintains the high quality and value.
The role of Colombia
Today, the most important source of emeralds extraction and the place continues to provide quality emeralds in the international market is Colombia. Also notable source of supply is the emeralds stocks of Zambia Kagem, which currently operates the mining Gemfields, which has additional mines in Colombia. In fact, recently acquired Gemfields mines emeralds Coscuez in Boyacá state operating for 25 years, while licenses and contracts are covering approximately 20,000 hectares or 77 square miles, in Boyacá and other regions of Colombia.
Another area rich in emeralds are Brazil, which ranks third in mining volume of green gemstone. Mining of emeralds are also in Zambia and India, as in parts of Pakistan and Afghanistan, but in which there is great suspicion that unlawful trafficking stones, due to the wars that exist in these Asian countries.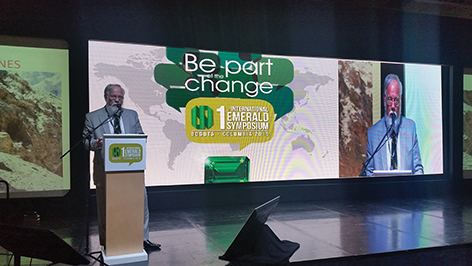 the 1st International Symposium emerald successfully held in Colombia last October.
Η Reversals in the market
The challenge for each gemstone in the international market has always been the relationship between supply and price. Until recently, the gemstone market dominated by a few big players who could control the allocated quantities and pricing based on their aspirations. But today, when Shor, the market moves in a more collaborative schemes as companies now believe more in maintaining a regularity in the supply of stones and capital flows despite the storage of their products.
For jewelers, jewelery manufacturers and designers, this means that so have better possibilities to know that they have the emeralds you want when need. This in turn leads to a structure of a model is dominated by relatively predictable tariff, and stable supply, so that it can respond to a potential increase in demand.
Discovered the second largest diamond ever
Editing: Dimitris Stamoulis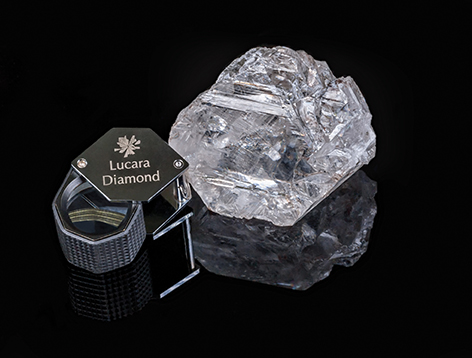 The President and CEO of Lucara Diamond Corp. Wiiliam Lamb realized that the phone call he received at 1.30 in the morning in one of the freezing nights in late November in Vancouver, Canada, will be either a very bad or a very good news. But he was lucky he was informed that the Karowe miners in the African country of Botswana, only mining had an amazing gem. It was a 1.111 carat diamond formula IIa which is to be recorded in the record books as the second largest diamond of similar quality that has never been found. Only the famous Cullinan diamond, weighing 3,106 carats is larger, which discovered before a century in January 1905 at the Premier Mine in South Africa.
The Karowe miners spotted this unique diamond mining materials coming from an area where the same year he discovered three more great weight diamonds over 300 carats each, among them the stone which was sold by Lucara last July for the sum of $ 20.5 million.
The President and CEO of Lucara can no longer startled by diamond discoveries size 300, 400 or 500 carats, but when informed of the diamond mining over 1000 carats the otherwise facing. "A thousand carats ... I would be surprised everyone such a discovery," he says meaningfully.
This amazing diamond has a size of 65 mm x 56 mm x 40 mm, and is so large in volume not fit to be placed on existing Lucara evaluation machines that the company has in Botswana. For this stone will be sent to Antwerp, Belgium for further evaluation. However according to preliminary estimates of experts, the diamond of 1,111 carats are type IIa and «top» of color, namely D, E or F, and high purity as well.
Note that another diamond mining company Gem Diamonds sold a 603-carat diamond, the "Lesotho Promise" for the sum of 2.4 million. Dollars in 2006, and Petra Diamonds received $ 35.3 million. For the sale of a diamond 507 carats in 2012. But the diamond Lucara is much larger than all the above and even the biggest ever discovered in Botswana.
The company Lucara which holds only 0.83% of world diamond production, but has the advantage of having a very high rate of discovery of large diamond currently discovered large diamond using the recently installed new Large Diamond Recovery Machine (LDR) XRT. Note finally that in another mine, the company discovered and another large 813 carat diamond.
Harmonizing color criteria for rubies and sapphires
Editing: Dimitris Stamoulis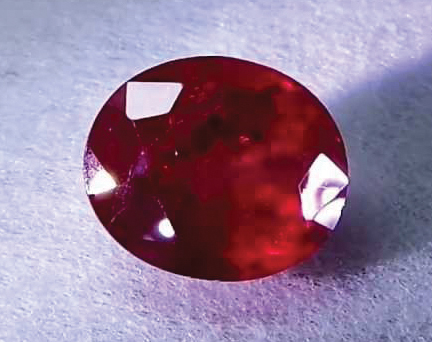 The Swiss institutes gemology SSEF and Gübelin Gem Lab harmonized their standards regarding the color and quality criteria in their evaluation of colors "pigeon blood red" and "royal blue" which are widely used for flawless rubies and sapphires.
The terms "pigeon blood red" and "royal blue" are used for too long to describe the top quality of these stones. However, until now there were some common agreed criteria against which precisely identify colors and quality corresponding to these two conditions, such as highlighting the two laboratories.
Both SSEF and the Gübelin had developed on their own and independently of one another, their own stones classification and evaluation criteria used when these conditions. But today, in order to enhance transparency in the gemstone industry and to consolidate the rules of the market, both institutes have compared their criteria and proceeded to some changes in order to harmonize the quality and color standards.
For a ruby or a sapphire to meet the conditions for use of these terms, their color should be "bold, saturated and homogeneous red or blue," according to the two laboratories. The precise movements of the "color", the "saturation" and "tone" are defined by a set of standard stone defined as master stones.
The «pigeon blood red» described as a red color, free from such modifiers, such as blue or brown, although a fine purple color is acceptable. The body color of the stone which can be regarded as this color also complemented by a strong fluorescence when exposed to ultraviolet light.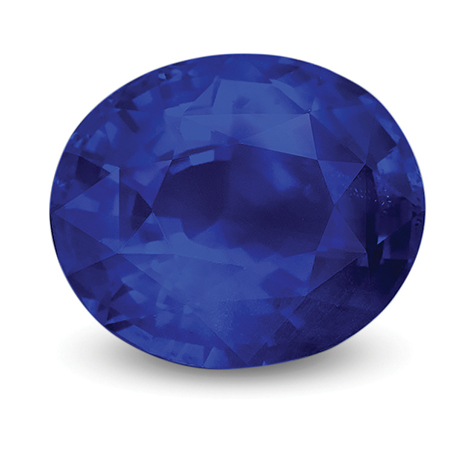 The "royal blue" is best described as a "saturated" blue, either neat or with a very slight purple tinge.
In terms of quality, conditions can only be applied for rubies and sapphires exhibiting excellent properties and there have been no changes of color and / or their clarity. Any type of treatment blocks the stones from being described by these color terms.
Moreover, it blocks should be relatively free from visible to the naked eye or dark inclusions and must show a homogeneous color distribution with vivid internal reflections, according to the laboratories. The size of the stone is not taken into account, so as small rubies and sapphires can be assessed and classified qualitatively based on these two color terms.
"Clearly, it is a strict criteria which means that only a very small percentage of rubies and sapphires qualify," said Daniel Nyfeler, CEO Gübelin Gem Lab.
Rio Tinto
65 red and pink diamonds, on a world tour
Rio Tinto once again has four fancy reds in its annual tender of special stones from the Argyle in Western Australia, the mine that produces the vast majority of the world's pink and red diamonds.
Including the four fancy reds, there are total of 65 diamonds in this year's Argyle Pink Diamonds Tender, up from 55 last year.
There also are five "hero" stones this year, top-quality diamonds to which Rio Tinto assigns a name.
This year, Rio Tinto's partnership with The Australian Ballet inspired the names assigned to the hero stones.
-- Argyle Prima, a 1.20-carat pear-shaped fancy red
-- Argyle Aurora, a 1.47-carat fancy red oval shape named for the princess inSleeping Beauty
--Argyle Allegro, a 0.79-carat fancy red radiant-shaped diamond, named after the brisk and lively movement in ballet
--Argyle Spectre, a 1.93-carat fancy-vivid purplish-pink shield-shaped diamond that takes its name from the ballet Le Spectre de la rose
--Argyle Élevé, a 1.44-carat fancy-intense pink emerald shape inspired by a movement in ballet
Viewings of the Argyle Pink Diamonds Tender in Hong Kong are by invitation only. Following the viewings there, Rio Tinto will bring the diamonds to New York and then back to Australia.
RapNet: 1-ct. diamond prices down 1 percent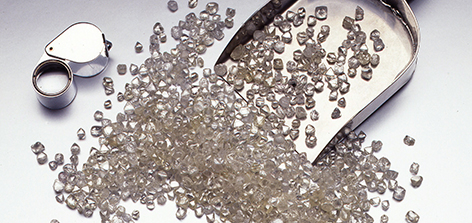 The RapNet Diamond Index (RAPI) for October shows continued softness in polished diamond prices, with trading improved but sales still below last year's levels.
According to data released earlier this week by Rapaport, the RAPI for 1-carat, Gemological Institute of America-graded diamonds fell 1 percent in October and is down 8 percent year-to-date.
While 1-carat diamond prices continue to slip, the greatest decline so far this year has been in the price of 0.30 carat diamonds, with prices falling 20 percent between Jan. 1 and Nov. 1, the RAPI shows. Double-digit drops also were recorded for half-carat stones (down 18 percent) and 3-carat diamonds (down 14 percent) in that time period.
Overall, the Rapaport Monthly Report shows that market conditions remained virtually unchanged in October.
With weak demand in Hong Kong and China, dealers still are betting high on the holiday season in the United States. As Rapaport put it, "all eyes (are) on the U.S. retail sector," particularly in light of the marketing efforts with the two-stone ring at Signet Jewelers and the re-launch of "A Diamond is Forever" by De Beers for its branded diamond, Forevermark.
On the rough manufacturing side, margins remained squeezed and there is continued consolidation in the mid-stream. The miners are holding on to rough and reducing production--De Beers, for example, cut third quarter production by nearly 30 percent--while continuing to decrease prices.
Rapaport said that rough prices need to decline by at least 20 percent to ensure reasonable profit margins in the middle market.
The market "continues to be challenging in 2015," Rapaport noted.
De Beers
Machine separation synthetic - mineral diamond
Editing: Dimitris Stamoulis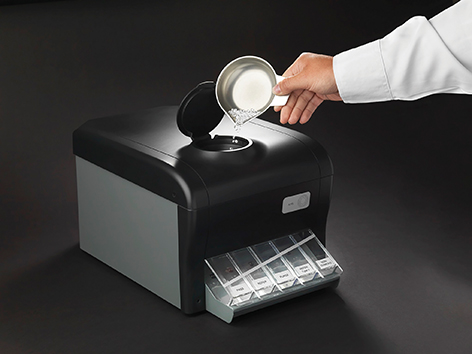 London-De Beers has begun using its new automated melee screening device at its International Institute of Diamond Grading & Research facility in Surat, and plans to begin offering the same at the IIDGR lab in Antwerp next month.
The machine screens 500 carats at a time of colorless, or near-colorless, diamonds between one point and 0.20 carats in size to weed out lab-grown melee from mined.
The device automatically feeds the stones, table-down, into a testing station. After testing, the diamonds are dispensed into one of five bins: pass, refer (more testing is needed), refer Type II (more testing needed, higher likelihood of being synthetic), non-diamond (simulant) or purge (for diamonds that were erroneously loaded into the machine).
They then are returned in a sealed IIDGR package that De Beers said is tamper-proof.
The potential mixing of less-expensive lab-grown diamonds with natural, or mined, diamonds is of growing concern in the industry as diamond growers up production levels and improve quality. Melee is particularly problematic because it often slips through the supply chain untested due to the fact that there aren't many cost-effective and efficient ways of checking these tiny stones.
In order to combat the problem, De Beers introduced an automated melee screener in January 2014, shortly after the Gemological Institute of Americaunveiled the DiamondCheck, which also can separate lab-grown melee from mined, starting with diamonds that are as small as one point.
De Beers initially said it would be leasing out the devices to sightholders beginning in the second quarter 2014 and installing multiple machines at the IIDGR in Antwerp later that same year. (The IIDGR in Surat was not yet open at that time.)
David Johnson, a De Beers spokesperson, said that total of five pre-production prototype automated melee screening devices have been in use in Antwerp for two years, as the IIDGR has been testing their durability and accuracy.
The beginning of the service this week marks the transition from testing to widespread use mode for the machine, which IIDGR President Jonathan Kendall said in a statement will "play an important role in supporting both trade and consumer confidence."
"Sellers will be able to provide potential buyers with pre-checked goods in sealed IIDGR packages, removing any potential concerns around disclosure," he said.
De Beers began using the automated melee screener, along with other proprietary instruments, at the IIDGR lab in Surat on Wednesday. The facility has a room specifically designed for melee testing.
Melee testing is set to begin Nov. 12 at the IIDGR lab in Antwerp, which also has a room outfitted specifically for melee.
The service will be offered at an introductory discount of 50 percent off in both India and Belgium through the end of the year. For more information, This email address is being protected from spambots. You need JavaScript enabled to view it. or visit IIDGR.com.
As for sightholders, De Beers ended up selling, not leasing, them the automated melee screeners.
Large manufacturers including Kiran Gems, Tasaki, Rosy Blue and Stullerhave acquired the devices, playing $55,000 plus a three-year support and maintenance charge of $10,000 a year.
The De Beers "puts the hammer" Kimberley mines
Editing: Dimitris Stamoulis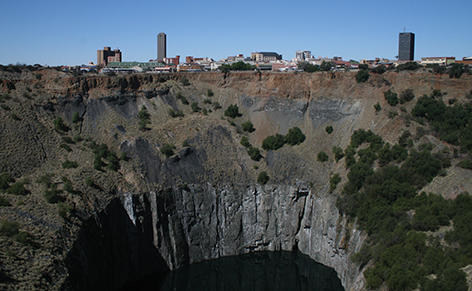 The De Beers group is looking for a buyer for the famous Kimberley diamond mines in South Africa, a region where the most precious of gems mined in 1870. According to De Beers, the diamond mining in Kimberley began about 20 years before the company is established, 1888. De Beers has finally gained control of the mines and exploited profitably for decades. Although today only a very limited presence there - to work mainly aimed at the recovery of precious stone materials already undergone treatment; the Kimberley Mines does not cease to be the oldest operating mines.
De Beers has since stopped its diamond mining operations in the mine since 2000, when it was forced to sell three historic underground mines Dutoitspan, Wesselton and Bultfontein the company Petra Diamonds, which since then is the owner and works even today.
While Kimberley is the second most productive mines of De Beers in South Africa with all the mined carat amounts to 722 000 2014, in fact it is a "mature activity" which produces the lower value diamonds than any other mine owned property, as does the company itself. This is a performance "limit" when compared with the yields of other mines of De Beers.
Interested parties for the acquisition of Kimberley Mines completed on May 29, the written testimony of their interest. Then they receive a request that will be presented by mid-June. Then will follow a very detailed examination of these applications. Of course the names of the companies remain closely guarded secret throughout the duration of this process.
Gemmologikes sessions in Athens
The first of a series of annual Gemmological sessions to be carried out in various countries begins in Athens on 27 and 28 June, in Hotel Divani & Thalasso Hotel, with organizer Independent Gemological Laboratory (Greece), the Swiss Canadian Gem Lab inc. (Canada), in collaboration with the Association of Independent Jewellery Valuers (UK) and the National Association of Jewelry Appraisers (US).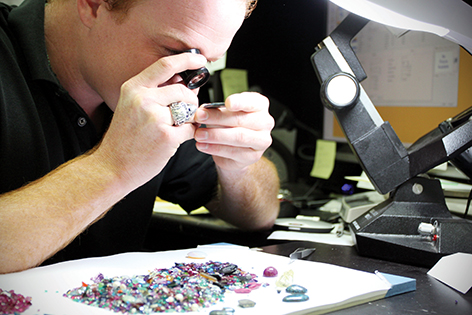 Poster contest
All participants can submit digital files (Gemmological, jewelry, education, jewelery) for the poster competition. The three best posters will be selected by the organizers to 5 June and participants will not be charged an appearance at the event.
The best poster will be selected from the participants will win free presence in the next conference to be held in Spain (Spain Meditarranean Gemological and Jewellery Conference 2016).
Those interested can find more information in www.gemconference.com or contact the company IGL Hellas (tel. 2103319383, This email address is being protected from spambots. You need JavaScript enabled to view it., Mr. George Spyromilios cdg)
Top Gemmological, jewelery appraisers and specialists composition will offer their expertise in a wide range of issues related to jewelry appraisers, jewelers and gemstone traders in recent years.
Some issues related to colored diamonds, pearls, medium and large-sized synthetic diamond, treatment and pricing of colored stones etc.
Themes
Among the various issues to be considered are:
- Production, Gemmological features and pricing of pink diamonds from the mine Argyle.
- Consideration and identification of synthetic diamonds (unbound and bound).
- Information on the production of synthetic diamond (HPHT-CVD) and means of identification and costing.
- Rubies Mozambique Characteristics (Mozambique Rubies) compared with rubies Burma (Burma Rubies). What is the impact of the word «Pigeon Blood» in high quality rubies using examples of important stones from auctions.
Practical workshop
Under the Gemmological sessions will take place and practical workshop (organized CGL-GRS Canada). Theme of the workshop is to learn to use the UV lamp, the polariskopiou and microscope and advanced Gemmological instruments (VIS-Raman Spectrometers) for identification of more than fifty (50) synthetic diamond (HPHT-CVD Grown and Treated).
Speakers
The speakers of the conference will be:
Dr. Thomas Hainschwang (Liechtenstein)
Francesca Peretti (Switzerland)
Branko Deljanin (Canada)
Wolf Kuehn (Canada)
Gail Brett Levine (USA)
Fazil Ozen (Turkey)
Kym Hughes (Australia)
Dr. Joe C.C. Yuan (Taiwan)
This is a unique conference for the industry of jewelry and offers the latest information and practical knowledge about gemstones, natural, refined and synthetic.